Monthly Reporting
We Make Sure to Show You How It's Working

We do a whole lot of marketing for your local business on the Web, via email, social media and more. You're spending money for this marketing, and there's no way to know if you're spending in the right areas unless you know how each of your marketing campaigns and media are working.

We compile comprehensive monthly reports for you that show where your marketing dollars are going, and the results of that marketing as measured by clicks, site visits, page views, email opens, social responses, ad clicks, sharing and other interactions with your marketing campaigns.

We'll help you to understand and interpret your reports, graphs, charts and customer interactions. Learning the ads and venues that get you the most responses and customers will help you to constantly adapt your marketing and offers for the best results. We'll monitor and report on customer reviews as well. Google is placing more emphasis on reviews in local search results, and you'll want to stay on top of what people are saying about your business.
Track Clicks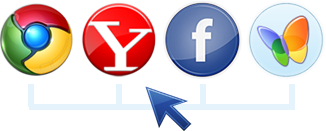 Website & Social Site Tracking
Through Google Analytics and other tools, we'll provide reports that will give you click-by-click information about your website visitor traffic, including:

- Pages Viewed – you'll see how many visits you're getting and which pages these visitors are checking out, where they arrive, and the page they leave from.
- Time on Site – you'll see how long people stay on your site and even individual pages.
- Returning vs First Visits – it's important to know how many new visitors you're getting, as that's potential new business, but also returning visitors as well.
- Conversion Tracking – we'll track how many and what percentage of site visitors actually take the action you want, such as filling out a form or placing an order.
- Where they Came From – you'll know which search engines and keywords brought your visitors, as well as referral clicks from other websites.

We're here to make sure that you are on top of all of the analytics variables that bring you customers.
Track Clicks

Email & Text Message Response Tracking
Our detailed reporting will give you a firm grasp on the clicks from emails and responses to text messages. Your email ad campaigns will be comprised of multiple timed-release emails with offers in each that invite a link to take the desired action. You'll get reports that tell you how many people opened the email, clicked on that link, and then how many actually took further action, like a purchase or free trial.

Your text messaging will be set up such that you'll get reporting showing the number of texts opened, coupons redeemed and offers accepted. Split testing, which is trying different offers and text and email wording will be a part of our services, with reporting as to which are working best so you can improve your ad campaigns. A fly on the wall of a corporate boardroom will tell you that a large part of every meeting is reporting of marketing and results. Let us become your "corporate" marketing division.