SMS Text Message Follow Up
We Set You Up With Your
Own Shortcode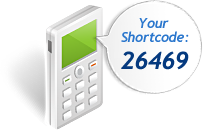 What's a "shortcode?" It's a short word or number that you can advertise to people so that they can text in to your text messaging system and end up on your marketing list. They may text a number, like "26469" with the word "deal." You've set up an auto-responder to send them a discount coupon immediately.

They are now on your text messaging list, in a database, and can be marketed with future offers, discounts, sales and information. Text message marketing is one of the most effective methods to drive business through your doors, even allowing you to bring that business through the door at days and times that are best for you. If you have certain days of the week when business is slower, you can text out promotional offers good only that day, and find people coming through the doors with their cell phones held up to get your offer.
We Send Out Text Blast
to Your Database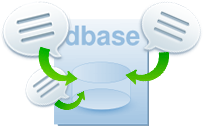 Once you have a growing text message database of subscribers, you have a very valuable asset. These aren't people reading the paper who happen to see your ad, or people who are too lazy to change channels to avoid hearing your commercial. These are people who got onto your list by texting in and then confirming that they want to receive future offers and messages from your business.

An example might be your fast food business who finds Wednesdays a bit slow, especially between lunch and dinner. You decide to bring in some customers during this slow period, so you text out a message offering a free drink with a burger or sandwich if they bring in their text offer between 2 PM and 5 PM. You may catch the after school or after work travel period, but for sure you'll see new business specifically generated by your text message. We take care of this for you, sending out the messages when you want to build your business.
Why Go Mobile?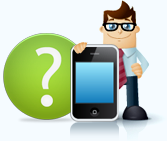 97% of Text Messages
are Read
People typically are only an armslength from their phone 23 of 24 hrs in a day,
reach people no matter where they are at with your message.